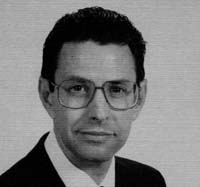 Desert Storm-Desert Peace: The Israeli View
STEVEN SPIEGEL
MONDAY, OCTOBER 14, 1991
The second speaker in our "Desert Storm-Desert Peace" series is Steven Spiegel, highly acclaimed author and spokesperson on international politics, foreign policy, and the Middle East.

Dr. Spiegel, professor of political science at UCLA, is the author of The Other Arab-Israeli Conflict: Making America's Middle East Policy, from Truman to Reagan (1985), acclaimed by the Wall Street Journal as "a masterly and incisive book." Nathan Glazer in the New Republic calls Spiegel's research "awesome," arguing that the book "overwhelms any other in its detail, its precision, and its objectivity."

Dr. Spiegel received his M.A. and Ph.D. in government from Harvard University. He has published in many well-known magazines and journals, and he has also authored and edited five volumes on international relations. His foreign policy reader, At Issue: Politics in the World Arena (1980), is the most popular of its kind used in the United States. Dr. Spiegel has appeared on various news programs with regard to the Middle East, including newscasts on CNN, CBS, and the BBC.

The Athenaeum joins the International Relations Program and the Keck Center in sponsoring Dr. Spiegel's address which begins at 7:00 preceded by a 5:30 reception and 6:00 dinner. Please return the enclosed reservation form if you wish to attend.