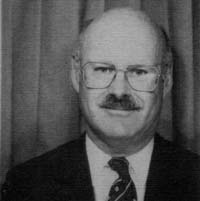 Desert Storm-Desert Peace: The Arab View
MICHAEL HUDSON
THURSDAY, OCTOBER 17, 1991
During the Gulf Crisis, everyone turned to CNN to find out what was happening, twenty-four hours a day. Our next speaker has done commentary on CNN for various Middle East events, as well as on "Voice of America," CBS, and the "MacNeil-Lehrer News Hour."

Michael Hudson is a professor of international relations and government and the Seif Ghobash Professor of Arab Studies at Georgetown University. He received his M.A. and Ph.D. in political science from Yale University. He received a certificate in Arabic from Princeton University.

Dr. Hudson is incredibly active in the world of Middle East academia and policy. He is a founding member of the Middle East Studies Association of North America, and served as president from 1986-87. He is also a member or associate member of five other Middle East or political science associations. He has served on the editorial board for three major Middle East publications and has published numerous books, including The Arab Future: Critical Issues (1979) and The American Media and the Arabs (1980).

In addition to the Gulf Crisis, Dr. Hudson is an expert on other turbulent situations in the Middle East, such as the Arab-Israeli conflict and Lebanon.

Dr. Hudson has appeared before congressional committees on Middle East issues, and he will now be appearing before the students of Claremont McKenna, courtesy of the International Relations Program, the Keck Center, and the Athenaeum. Please join us for an informative discussion by returning the enclosed reservation slip. The reception begins at 5:30, followed by dinner and the talk.