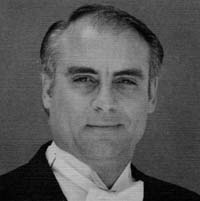 Beethoven's Ninth Symphony Preview
MICHAEL DEANE LAMKIN
KAREN MANFIELD '94
ADAM HILLER '93
WEDNESDAY, OCTOBER 23, 1991
This fall the great, majestic Ninth Symphony of
Beethoven will be presented for the first time under
the auspices of The Joint Music Program. Two of the
ensembles of the Colleges, the Claremont Chamber
Orchestra and the Concert Choir, are working this fall
toward the concert which will be presented in Bridges
Auditorium on November 8. Joining with the colleges'
musical groups will be singers from five different
community music organizations in Claremont and the
College Choir from Occidental College.
The Marian Miner Cook Athenaeum will host the
conductor of this concert, Michael Deane Lamkin, as he
discusses this work of Beethoven in both its historical
and present-day context. Using recorded excerpts of the
Ninth Symphony and slides of Vienna, Lamkin will give
a concise presentation in preparation for the concert.
Besides Mr. Lamkin, who is professor of music and
has been with the colleges since 1977, there will be two
student speakers from Claremont McKenna College,
Karen Manfield '94, sophomore, and Adam Hiller '93, junior.
Both of the students will discuss their work as members
of the ensemble preparing for this concert.
Please join us in an enlightening presentation of
Ludwig van Beethoven in his historical and present-day
context. Please fill out the enclosed reservation form
and return it to the Athenaeum so that you may enjoy a
special Viennese dinner prior to the presentation.