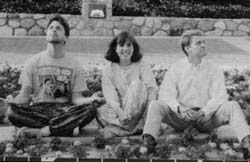 From the Fellows
SCOTT PALMER '93
ELIZABETH PONTEFRACT '93
TYSON ROBERTS '92
Welcome to the 1991-92 year at the Marian Miner
Cook Athenaeum. We are the student fellows:
Scott Palmer, Elizabeth Pontefract, and Tyson Roberts.
The three of us are extremely excited about the
upcoming year. The speaker variety ranges from Christopher Columbus to Queen Ida's Cajun band and
covers areas from the Soviet Union to Southern California. It is an amazing prospect that we get to meet these
people and gain insight into their lives. We hope that all
students will take advantage of this opportunity. Our
focus this year is to facilitate student interaction with the
speakers and the faculty members who frequent the
Athenaeum.
From the outset, we want to stress that the Athenaeum is primarily for students. Our policy is to focus on
students' needs first. However, we need your help. As
some of you are already aware, there is a reception prior
to all dinners. This is a fantastic opportunity for
students to mingle with the speaker, faculty, administrators, and other students. If you are having any
problems getting a chance to talk with the speaker
during this time, please come up to any of us and we
will be more than happy to introduce you.
Another opportunity to meet the speaker on a more
informal basis is to sit at the head table. The conversations over dinner often provide an opportunity to
discuss the speaker's life, rather than the more formal
topic of the speech itself. You'd be amazed at some of
the anecdotes our guests have stored up. Sometimes,
speakers like to hear about life at CMC, so you can swap
college stories with them.
After the speeches we like to have about twenty to
thirty minutes of questions and answers. In the past,
many students seemed to be a bit tentative about raising
questions. We hope to see that change this year. If you
have time before or during dinner, try to think of
questions in advance. If you had the opportunity to chat
with the speaker at the reception or over dinner, after
the speech you could ask him or her to elaborate on
something you discussed.
In addition to the array of captivating speakers, the
Athenaeum offers the traditional Madrigal Feast in
December and the new Halloween Night of the
Macabre. For less formal gatherings, afternoon teas are
always a popular way to break up the afternoon. Also,
every Wednesday at noon there is an Open Forum
lunch where students and faculty gather to talk about
class, life, or current issues. The food is good and the
conversation is great, so think about dropping by.
All in all, we want you to feel as at home at the
Athenaeum as we have come to be over the last few
years. If you have any suggestions or concerns, or if you
would like to sit at the head table or even introduce a
speaker, call us or drop a note in our box in the
Athenaeum office. We look forward to meeting you
during the year.