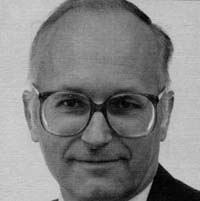 Desert Storm-Desert Peace: An Overview
WILLIAM QUANDT
MONDAY, OCTOBER 7, 1991
Last year the eyes of the world were glued to the television screen as the cataclysmic events in the Middle East unfolded-the invasion of Kuwait, Desert Shield, and finally Desert Storm, culminating in the West's attempt to establish a new world order. Now, nearly a year later, the world is still waiting to see what shape the new Middle East will take.

The Marian Miner Cook Athenaeum is proud to present, in cooperation with the International Relations Program and the Keck Center, the Desert Storm- Desert Peace series to review what really happened last year. Four world-class specialists will investigate how the situation developed and what we can expect in the future. The front page of U.S. newspapers has turned its attention from this eternally war-torn region; this series will give us a chance to catch up on the area's latest developments.

Our series will open with William B. Quandt, senior fellow in the Foreign Policy Studies Program at the Brookings Institute. Before coming to Brookings in 1979, Dr. Quandt served as a staff member on the National Security Council. He is an expert on the Middle East, American policy toward the Arab-Israeli conflict, and energy policy.

Dr. Quandt received his B.A. in international relations from Stanford University and his Ph.D. in political science from MIT. His books include The United States and Egypt: An Essay on Policy for the 1990's (1990), Saudi Arabia in the 1980's: Foreign Policy, Security, and Oil (1981), and Decade of Decisions: American Foreign Policy Toward the Arab-Israeli Conflict, 1967-1976 (1977).

During 1987-88, he was president of the Middle East Studies Association. Currently he is a member of the Middle East Institute and the Council on Foreign Relations.

Please join us for the opening of this provocative series. Return the enclosed reservation slip for the 5:30 reception, 6:00 dinner, and 7:00 talk. Questions will be fielded, as always, after the talk.