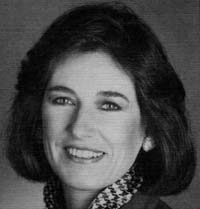 Southern California: Invest Now or Pay Later
KATHLEEN BROWN
WEDNESDAY, OCTOBER 9, 1991
Kathleen Brown believes in planning for the financially secure future of California. Sworn in as state treasurer on January 7, 1991, by her father, former governor Pat Brown, she has already sponsored legislation to encourage savings bonds for college tuition. In her position as chair of the Public Employees' Retirement System Investment Commission, she convinced the commission to liquidate their junk bonds and consider more secure investment alternatives.

Not only is Ms. Brown watching out for California's future, but California is eying her future as well. Many political analysts agree that she is likely to be a contender for governor in either 1994 or 1998. On the national scene. The Washington Post forsees her future as such: "California will finally have a statewide Democratic official with the potential to be on the national ticket."

A California native, Kathleen Brown graduated from Stanford University and went on to the Fordham University School of Law. She has practiced corporate law, specializing in public finance, in New York City and Los Angeles. She served two terms on the Los Angeles Board of Education, which oversees the second largest school district in the United States. In the 1990 state elections, she was the only candidate to upset an incumbent.

Please join the Marian Miner Cook Athenaeum in welcoming state treasurer Kathleen Brown for her speech entitled "Southern California: Invest Now or Pay Later." She will also be attending a Women's Forum tea from 4:00 to 5:00. Dinner will begin at 6:00 and her remarks will commence at 7:00.