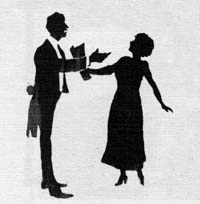 MUSICAL TEA: Broadway Musical Duets
ELIZABETH MARLIES '91
ANDREW LISOSKI '93
GABRIELA TEODORESCU '94, piano
MONDAY, OCTOBER 28, 1991 3:15 p.m.
You are cordially invited to this afternoon's tea which features popular duets from Broadway musicals. Elizabeth Marlies and Andrew Lisoski, both veteran members of the Concert and Chamber Choirs, will be assisted by pianist Gabriela Teodorescu, a freshman.

Elizabeth, a senior geology major, has studied voice at the opera school in Reykjavik, Iceland, and sang the role of Lucy in CMC's production of You're a Good Man, Charlie Brown (1967) in spring '90.

Andrew, who is from Olympia, Washington, is in his third year of a management-engineering major and studies voice at Scripps.

Gabriela studied piano and violin for 14 years prior to entering CMC, and in addition, received a scholarship to study music in Budapest, Hungary. While pursuing a major in international relations, she also finds time for chamber music, playing both violin and piano.

Come and linger awhile over your tea, and enjoy the music.