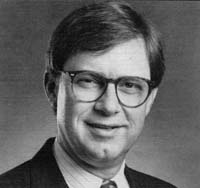 America After the Fall of the Evil Empire
MICHAEL BARONE
TUESDAY, OCTOBER 29, 1991
The Henry Salvatori Center and the Gould Center are delighted to welcome one of America's premiere political analysts and historians to the Athenaeum. Michael Barone, co-editor of The Almanac of American Politics (1972) and author of Our Country: The Shaping of America from Roosevelt to Reagan (1990), will speak as the second participant in the centers' series on "The Common Good: Unifying Elements in the American Experience."

Formerly an editorial writer and columnist at The Washington Post and currently a senior writer at U.S. News and World Report, Barone has been a close observer of American political life in and out of Washington. Indeed, he is expert at relating goings-on within the Beltway to the broader political culture of American hometowns and local communities. His vast appreciation of this link is displayed biannually in editions of The Almanac of American Politics, perhaps the best-selling and most useful guide to who's who in our national government.

Barone's new book, Our Country, argues that ethnicity-not class or other factors-has been the key to the course of American politics from Franklin Roosevelt's New Deal to the Reagan Revolution. The book is a mine of political information, telling anecdotes, and acute interpretations. Please take this chance to become better acquainted with "our country" by joining us for what is sure to be a masterly talk at 7:00 p.m., preceded by a reception at 5:30 and dinner at 6:00.