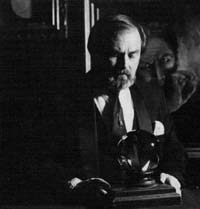 Night of the Macabre
LEO KOSTKA
THURSDAY, OCTOBER 31, 1991
In the days of the Druids in ancient Celtic England it was known that on the last day of October the doors to the spirit world opened. Demons and ghouls prowled the Earth and haunted the skies, while mortal men lit fires to keep them at bay. All Hallow's Eve was the name of the day.

In the modern world, the civilized profess to disbelieve in ghosts and spirits. However, one evening stands alone among the hundreds of sane others, to frighten us with the unknown and fill our hearts with dread of the unholy.

The Marian Miner Cook Athenaeum invites you to join us, if you dare, at our first Night of the Macabre, to hear stories of the frightening and communicate with the Other World.

The evening's festivities begin with a special spooky dinner in Security Pacific, and three seances held in a dark back room-the spirits are wary of large crowds. The seances will begin at 5:30, 6:15, and 7:00. Please indicate your preference on the reservation form. The seances will be conducted by the famous medium Leo Kostka, Master of the Unbelievable. Pregnant women and the weak hearted are advised not to attend. At 7:30, various professors and students will deliver readings of the macabre including works by such masters as Edgar Allan Poe and H.P. Lovecraft. The evening will close in time for lesser Halloween celebrations to be attended.

Fill out your reservation slip, indicating which séance session you prefer. Then, when the evening comes, put on your costume and join us for an experience so hair raising it will give your goosebumps goosebumps.