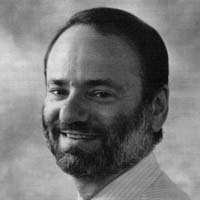 Desert Storm-Desert Peace: The Journalist's View
DAVID SHAW
MONDAY, NOVEMBER 4, 1991
Our fourth speaker in the "Desert Storm-Desert Peace" series is uniquely qualified to discuss the role of the press during the Gulf Crisis; he won the 1991 Pulitzer Prize for "distinguished criticism" of media coverage. The Marian Miner Cook Athenaeum is proud to welcome David Shaw, award-winning media critic for the Los Angeles Times. Former Times editor William Thomas calls Mr. Shaw "a unique figure on the journalistic scene."

Mr. Shaw describes himself as "cocky, outspoken, aggressive, abrasive, confrontational." He has been characterized by the portrayal of the abrasive reporter, Joe Rossi, on Lou Grant. Mr. Shaw is not afraid to tell it like it is, even if it means alienating other reporters. In college he served as sports editor for UCLA's Daily Tribune, and in his first column he proclaimed himself a USC fan. The antagonized Student Legislative Council tried to take away his appointment; some students got a fund together to send him to USC.

Mr. Shaw has contributed to several national publications, including Rolling Stone, Psychology Today, and GQ. His books include Press Watch: A Provocative Look at How Newspapers Report the News (1984) and WILT: Just Like Any Other 7-Foot, Black Millionaire Who Lives Next Door (1973).

Please join us for an honest and insightful look at the American press by turning in the enclosed reservation slip. The reception will begin at 5:30, followed by dinner at 6:00 and Mr. Shaw's talk at 7:00.