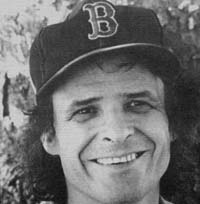 The Things They Carried
TIM O'BRIEN
WEDNESDAY, NOVEMBER 13, 1991
The Marian Miner Cook Athenaeum is proud to welcome award-winning author Tim O'Brien. Mr. O'Brien received the 1979 National Book Award for his novel Going After Cacciato (1978). His most recent book, The Things They Carried (1990), was selected by The New York Times Book Review as one of the six best works of fiction in 1990.

Critics question why Mr. O'Brien continues to write books, such as these two award winners, about a war that ended twenty years ago, and accuse him of exploiting the Vietnam War. This new book, however, "is about love, and God, and life after death." He says, "I'm hoping art will salvage the exploitation. The whole purpose is to try to get something beautiful out of that awful war."

Mr. O'Brien graduated in 1968 from MacAlester College in St. Paul. He served as a foot soldier in Vietnam from 1969 to 1970, after which he pursued graduate studies at Harvard University. His short story, The Things They Carried, was selected for the 1987 Best American Short Stories and was included in Best American Short Stories of the 1980's.

Mr. O'Brien enjoys a good informal discussion; he is sure to be as provocative as he was at his former Athenaeum appearance. Be sure to join one of America's great authors by returning the enclosed slip. The reception will begin at 5:30, followed by dinner at 6:00 and the talk at 7:00.