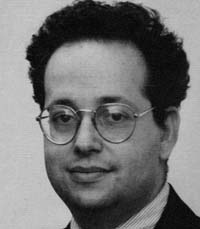 Legal Questions Facing Us Now
GORDON CROVITZ
THURSDAY, NOVEMBER 14, 1991
One of the most reliable resources available for insight into the rapidly changing state of affairs is The Wall Street Journal. The Marian Miner Cook Athenaeum and the Lowe Institute are proud to welcome Gordon Crovitz, the editor of the Journal's editorial page.

Mr. Crovitz has been with the Journal since 1980, when he was a summer intern on the editorial page. He returned in 1981 as an editorial writer. In 1982 he was founding editor of the editorial page of The Wall Street Journal Europe in Brussels. He took up writing for the domestic paper two years later. In 1986, he joined the editorial board and was appointed to assistant editor.

Mr. Crovitz's weekly column, "Rule of Law," has gained much acclaim, earning him the 1990 Gerald Loeb award and the New York State Bar's highest honors for commentary. Crovitz wrote extensively for the Journal concerning Clarence Thomas. In addition, he co-edited the book, The Fettered Presidency: Legal Constraints on the Executive Branch (1989), published by the American Enterprise Institute.

After graduating Phi Beta Kappa from the University of Chicago in 1980, Mr. Crovitz studied at Wadham College of Oxford University on a Rhodes scholarship. To do so, he had to decline a Marshall scholarship. He returned to the states to earn his law degree from Yale University in 1986.

Please join us for the reception, dinner, and Mr. Crovitz's presentation by returning the enclosed reservation form. It is his job to have an opinion on legal matters, so bring vour questions.