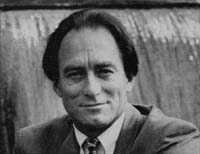 Southern California: Will It Dry Up?
MARC REISNER
WEDNESDAY, NOVEMBER 20, 1991
Many of us living in Los Angeles this past summer probably remember shorter showers, fewer baths, brown grass, and dirty cars. Water rationing had hit the Southland. The Northerners, who "love to hate southern Californians," treat rationing as a common occurrence, yet it is relatively new to southern California. But Marc Reisner is returning to tell us that we had better get used to it: "We will be using as much water in 2030 as we are today."

Mr. Reisner, who is a writer, lecturer, and consultant on Western water issues has been exceptionally active. He recently authored the book Cadillac Desert: The American West and Its Disappearing Water (1986), a history of water and the American West, which is considered one of the twelve best non-fiction books published in 1986.

Mr. Reisner is a native of Duluth, Minnesota, where his parents escaped the Nazi regime in Germany through sponsorship of Quakers. He is a graduate of Earlham College in Richmond, Indiana, where he received a B.A. in history and politics. Following college he spent two years on a communal farm: "I found out how hard farmers have to work." He then went on to write for the Natural Resources Defense Council. A few years later, following a road trip to the West, he decided to move to San Francisco, where he's been ever since.

Once again we are excited to welcome Mr. Reisner to the Athenaeum to speak on the controversial topic of water. Please take the opportunity to learn about this vanishing resource. The dinner will begin at 6:00 p.m., following a 5:30 reception. The speech will begin at 7:00.