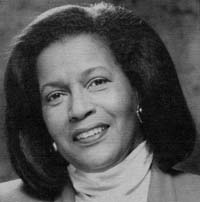 Martin Luther King, Jr. Remembrance
MYRLIE EVERS
THURSDAY, JANUARY 23, 1992
The Marian Miner Cook Athenaeum is pleased to welcome Myrlie Evers as the fifth annual Martin Luther King, Jr., birthday speaker. She and her late husband, Medgar Evers were active in Mississippi during the Civil Rights Movement, dedicating their lives to the cause of justice and freedom for all people.

Medgar Evers was field secretary for the National Association for the Advancement of Colored People in Mississippi and in 1963 was struck down by an assassin's bullet. The first two trials were deadlocked by all-white juries. Myrlie's powerful devotion to see justice done in the third trial is a demonstration of her strong will and determination.

Ms. Evers graduated from Pomona College and then became director of planning and development for the Claremont Colleges. During this time she wrote For Us, The Living (1967), a book describing the civil rights struggle in Mississippi. The book was later made into a PBS presentation.

Since her days with the colleges, Ms. Evers has been an editor for Ladies Home Journal, covering the Vietnam peace talks; vice president of advertising and publicity for a New York firm; and the first African-American woman to head the Southern California Democratic Women's Division. She was also the first African- American woman to serve as commissioner of public works in Los Angeles, a post she held until 1991.

Be sure to join us to hear a woman who has worked to realize King's dreams of racial equality everywhere, from Mississippi, to New York, to Claremont. The evening will start with a reception at 5:30, dinner at 6:00, and the talk at 7:00. Return the enclosed slip to make your reservation.