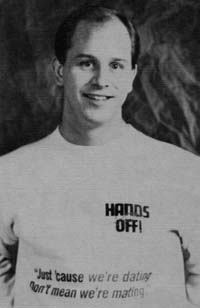 Hands Off! Let's Talk
BOB HALL
MONDAY, JANUARY 27, 1992
We all know that date rape and confused sexual
agendas are one of the biggest sources of conflict
between men and women in college, where we young
people are often living alone for the first time. Finger-
pointing is often the unproductive result.
Bob Hall
's approach, however, assigns responsibility to both men
and women in dating, and opens up a forum to uncover
conflicting assumptions and begin conflict-defusing
discussion.
The Marian Miner Cook Athenaeum is proud to
present Mr. Hall's ground-breaking presentation
designed to bring men and women together in discussion over this universal issue. Hall is a nationally known rape prevention instructor and the founder and president of Learning To Live With Conflict, a company that provides education and training in conflict resolution.
Mr. Hall's presentation includes role-playing, a touch
of humor, and a continuous dialogue with his audience.
Hall creates a relaxed atmosphere, enabling people to
talk about date rape, a topic difficult for many of us to
discuss. Hall's presentation will begin at 7:00, preceded by a 5:30 reception and 6:00 dinner. Please return the
enclosed slip to join us for an educational and enjoyable
evening.