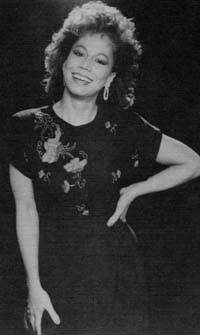 The Last Word
SCHYLEEN QUALLS
WEDNESDAY, JANUARY 29, 1992
The Marian Miner Cook Athenaeum is excited to
welcome
Schyleen Qualls
. Through her dramatic
presentation, titled "The Last Word," she aims to
encourage students of all backgrounds to explore the richness and diversity of American culture and to
become more knowledgeable and open-minded world
citizens. The show includes a fun-filled collage of
thought-provoking poetry and prose by celebrated
African-American authors.
Ms. Qualls is an accomplished actress with an
impressive list of credits in the arts. Her unique
theatrical style has delighted audiences in hundreds of
performances in the United States and abroad. She is
co-founder of the Cleo Parker Robinson Dance
Ensemble and for many years has performed her
dramatic vignettes in concerts with the highly acclaimed
dancers. This versatile actress has also appeared as a guest artist with jazz ensembles, symphony orchestras,
and gospel choirs.
Ms. Quails has travelled extensively in Europe, the
Caribbean, and Central and South America. In 1977 she
was a member of the American delegation to the Second World Black and African Festival of Arts and Culture
held in Lagos, Nigeria. She was also the scriptwriter for
the powerful film, "Family Reunion, Americans at
Festac," which documented the Nigerian festival and
has been shown in 74 countries. Recently she produced
a documentary film on legendary jazz artists Cannonball and Nat Adderley, and currently is working on
other film projects.
Please join us for a fun evening of intellectual
entertainment. Return the enclosed reservation slip for
the 5:30 reception, 6:00 dinner, and 7:00 talk.