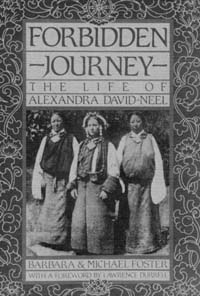 Forbidden Journey: The Life of Alexandra David-Neel
BARBARA FOSTER
THURSDAY, JANUARY 30, 1992
The Marian Miner Cook Athenaeum is excited to welcome Barbara Foster to deliver a slide lecture on her biography of Alexandra David-Neel, whom Lawrence Durrell calls "The most astonishing French- woman of our time."

The New York Times has described Mme. David-Neel as "a compulsive traveler, an explorer, a feminist, a prolific and international writer and an acknowledged authority on Buddhist ritual." She was the first European woman to enter Lhasa, the forbidden spiritual and political capital of Tibet, by sneaking in disguised as the servant of her servant.

Mrs. Foster, a tenured assistant professor in the Hunter College library department, and her husband spent ten years following in the footsteps of this remarkable woman to write the highly acclaimed biography. The lecture includes both vintage and contemporary slides, bringing Tibetan culture and Buddhism to the Athenaeum in celebration of this "Year of Tibet."

Please join us for this fascinating presentation of Tibet and the astonishing Alexandra at 7:00, to be appropriately proceeded by a delicious authentic Tibetan meal at 6:00, and of course the reception at 5:30. Just return the enclosed slip to make your reservation.