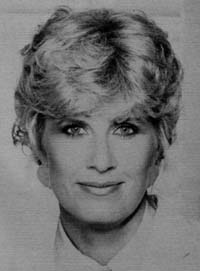 AIDS: Its Implications Today
THERESA CRENSHAW P'94
MONDAY, FEBRUARY 3, 1992
AIDS was introduced to the American people in the early eighties. In its short career it has become the most feared disease of our time. Our generation has grown up with the HIV virus on the news, in the papers, possibly even in our communities. It has infiltrated our culture. The Athenaeum would like to welcome back Dr. Theresa Crenshaw to discuss how deeply the HIV virus has affected the lives of our generation and our society.

As one of the most prominent sex therapists in the nation. Dr. Crenshaw has devoted most of her time to educating the public about this deadly disease. She is the first speaker in the Athenaeum series "AIDS: Its Implications Today." This series will address the medical, economic, and political aspects of AIDS.

Dr. Crenshaw graduated from Stanford University and the University of California at Irvine medical school. She then continued her specialty training at the Masters and Johnson Institute in St. Louis, Missouri. In July of 1987, President Reagan appointed her to his presidential commission on the Human lmmunodeficiency Virus (HIV). She is president and founder of the Ehrenborg Foundation, a non-profit organization dedicated to the prevention of HIV infection. The two AIDS Awareness Day programs Crenshaw developed won Golden Mike Awards and an International Gold Medal in New York.

In this day and age, you really can't afford to miss this speech entitled "AIDS: Its Implications Today." There is never too much information when it comes to AIDS. Please join us for a reception at 5:30, followed by dinner at 6:00. Dr. Crenshaw's remarks will begin at 7:00.