Athenaeum Location
Print Newsletter
February 10, 1992
Vol. 07, No. 06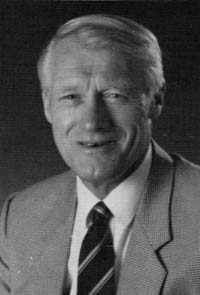 The U.S. and the New Europe: Rivals or Partners?
ELDON GRIFFITHS
MONDAY, FEBRUARY 10, 1992
The Marian Miner Cook Athenaeum is honored to welcome Sir Eldon Griffiths to share his views on the dynamic changes occurring in our relations with Europe. Sir Eldon is uniquely qualified on the subject, as he is at the top of several fields on two continents: public service, academia, journalism, business, and industry.

Eldon Griffiths is a member of Parliament, former minister in the British government, and a senior member of the House of Commons foreign affairs committee. He owns homes in both England and California, holds degrees from both Cambridge and Yale, and serves as director of companies in the United States as well as the United Kingdom.

Sir Eldon was elected to Parliament at an early age and quickly became a delegate to the Council of Europe. He was under secretary of state in the world's first Department of the Environment and helped set up the U.N.'s environmental agency.

Eldon Griffiths was the first non-American to become a domestic U.S. correspondent for Time and Life. He later served as chief European correspondent, foreign editor, and managing editor of Newsweek International in New York. As a foreign correspondent, he was taken prisoner by the Red Army in Hungary and reported from the Bay of Pigs when the anti-Castro forces landed in Cuba. He finally quit U.S. journalism to become a speechwriter for the British prime minister.

Sir Eldon's speech should be as fascinating as his career. The 7:00 talk will cover the new arrangements for NATO and WEU, the economic and financial prospects for a common market of more than 300 million people, and the impact of that market on America. Please return the enclosed slip to make your reservation for the 5:30 reception and 6:00 dinner.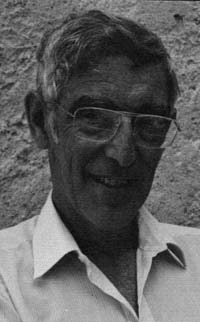 Understanding the Causes of Aging and Cancer
BRUCE AMES
TUESDAY, FEBRUARY 11, 1992
It seems lately that you can't eat anything, touch anything, or do anything without coming into contact with something that causes cancer. The warning labels are ubiquitous, and risk is inevitable. In light of this carcinogen-consciousness. Dr. Bruce Ames contends that the best way to prevent cancer is simply to "eat your veggies." You can't escape carcinogens, he argues, so protect yourself with good nutrition.

So far, scientists have tested only a fraction of all man-made and natural chemicals, and over half are found to be carcinogenic. Chemicals are not the primary cause of cancer, longevity is. Dr. Ames believes that cancer is primarily a natural result of increasing lifespan. He grants that his generalized outlook spurs attacks from specialized groups. For example, environmental groups oppose his belief that pollution and pesticides play only a minor role in cancer development. In fact, the number of carcinogens in one cup of coffee is greater than a person's yearly intake of pollution.

As a professor of biochemistry at the University of California, Berkeley, Dr. Ames developed the Ames test which determines if chemicals cause mutations in bacteria and thereby may result in cancer. This test resulted in many of the cancer warnings on products today. Ironically, Dr. Ames is skeptical of the accuracy of this testing, claiming that the high doses of chemicals used in the tests are often unrealistic.

Please join us for Dr. Ames' presentation entitled "Understanding the Causes of Aging and Cancer." The reception will begin at 5:30, followed by dinner at 6:00. Dr. Ames' remarks will commence at 7:00.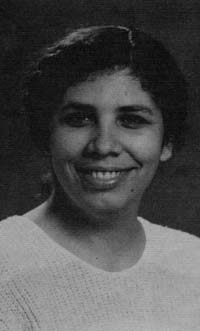 Living Law: A Different Perspective
ELENOR TAYLOR '81
WEDNESDAY, FEBRUARY 12, 1992
The Marian Miner Cook Athenaeum is excited to welcome Elenor Taylor. Ms. Taylor graduated from CMC in 1981 with a B.A. in political science and religion. She was a staff member of the Senate Democratic Policy Committee while attending the National Law Center at George Washington University in Washington, D.C. After receiving a J.D., with honors, from the NLC in 1984, Elenor left her position at the Senate to become a program instructor for the Close Up Foundation. When she moved back to California, she pursued her interest in education, teaching social studies at a local high school even after being sworn in as a member of the State Bar of California in 1985.

As the director of business and legal issues programs for the Constitutional Rights Foundation since 1987, Elenor supervises program development and staff activities for a variety of citizenship and law-related education programs.

Elenor believes that she practices the law as every citizen should, and that it is the responsibility of every individual-not just lawyers-to be aware of the fundamental concepts of law and our legal system. Furthermore, it is the duty of the educational and legal communities to de-mystify the law for young people and challenge them in positive ways to understand and accept this responsibility of citizenship. She will address this view in "Living Law: A Different Perspective."

The reception begins at 5:30, followed by dinner at 6:00. If you can't make the dinner, come at 7:00 for the talk.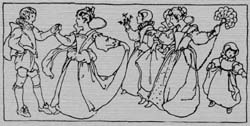 Evening in Vienna
MICHAEL DEANE LAMKIN, conductor, Claremont Chamber Orchestra
Friday, February 14, 1992 (CMC Valentine's Night)
Saturday, February 15, 1992 and Sunday, February 16, 1992 (Community Nights)
It is our pleasure to invite you to an evening of music, dance, and fine Viennese cuisine. Join us for dinner, a turn around the dance floor, and the music of Johann Strauss with the Claremont Chamber Orchestra conducted by Professor Michael Deane Lamkin.

The festivities will begin at six o'clock and will include a mini dance lesson on the waltz and the polka by Mr. Lamkin.

The menu will feature a served dinner of

Borscht
Green Bean and Red Pepper Salad with Vinaigrette Dressing
Chicken Paprika
Red Cabbage and Bacon
Orzo with Mushrooms
Assorted Homemade Viennese Delicacies
Viennese Café

Prices-please include your payment with your reservation.

Prices for Friday, February 14,- Valentine's Night- special rates for students and faculty

CMC student and one guest (both with meal cards)$7.50 per person
CMC student with one guest (without meal card)$10.00 per person
CMC faculty, staff, and one guest$15.00 per person
All other students, faculty, and staff $20.00 per person

Prices for Saturday, February 15 and Sunday, February 16- Community Nights

CMC faculty, staff, and one guest $20.00 per person
All others $30.00 per person

Please use the appropriate form for your reservation-include payment.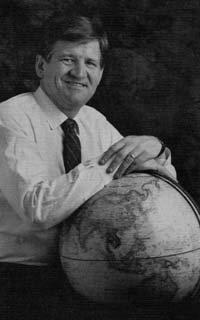 The New Soviet Union
ROBERT LEES
MONDAY, FEBRUARY 17, 1992
The Soviet Union is changing on a daily basis. Unfortunately, most of the news that we Americans have access to tells us very little of the "business side" of the Soviet Union. Robert Lees is a businessperson who can give us this insight. Mr. Lees is president of Pacific InterTrade Corporation, an international marketing and consulting company in Westlake Village, California, that works with U.S. manufacturers to develop projects and product distribution abroad. The company is involved in the Soviet Union, Japan, China, and Latin America.

Mr. Lees is a career internationalist and has conducted business in more than 30 countries. He has held management positions with the Corning Glass Company in New York, Latin America, Singapore, and Japan. Before founding Pacific InterTrade, he was vice president of marketing at Security Pacific Trading Corporation in Los Angeles. His international business experiences include acquisitions, joint ventures, marketing, and countertrade transactions.

Mr. Lees has a master's degree in international management from the American Graduate School of International Management (Thunderbird) and the Institute of International Studies and Training at Mount Fuji in Japan, and he is a summa cum laude graduate in international economics from the University of Cincinnati.

Mr. Lees frequently speaks at universities and before business groups on international business topics. His articles have been published in several leading magazines and newspapers, and he is often interviewed on radio and television regarding international trade.

Mr. Lees will join us at 5:30 for a reception, followed by dinner at 6:00. The speech will start at 7:00.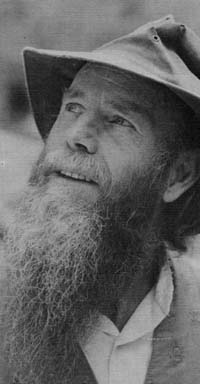 The Spirit of John Muir
LEE STETSON
TUESDAY, FEBRUARY 18, 1992
Imagine an America where the wilderness was still intact and untamed, where the papers weren't plagued with the perils of pollution, and anyone could roam free of the fear of encountering a mini-mall or cheesy gift shop. Imagine the America of John Muir, father of the environmental movement. Lee Stetson recreates this more pristine past in his monologue "The Spirit of John Muir."

John Muir was born in Scotland and immigrated to the wilderness of Wisconsin at the age of eleven. In 1867, he walked from Kentucky to Florida, keeping a journal, the first of many. The next year he moved to California and caught his first glimpse of Yosemite. From then on, he struggled to get federal control of forests, Yosemite in particular. He climbed Mount Shasta and Mount Rainier, explored the glaciers in Alaska, and even led President Theodore Roosevelt on a personal tour of Yosemite. His adventurous spirit developed into a camaraderie with the land around him. Mr. Muir saw Yosemite declared a national park. Later he founded the Sierra Club, an organization that continues to speak out on behalf of the environment.

Mr. Muir published accounts of his adventures. From these Mr. Stetson developed his monologue. Mr. Stetson has been portraying the adventurer for over eight years. His exploration into Muir's life has inspired him to become active in the environmental movement. He has performed as John Muir more than five hundred times. Stetson also takes visitors on weekly walks through Yosemite, giving them a glimpse of the park through Muir's eyes.

Don't miss this opportunity to relive the roots of environmentalism and hear the tales of America's premier adventurer. Dinner will be served at 6:00 following a 5:30 reception. Mr. Stetson's performance will begin at 7:00.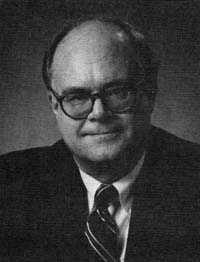 Resourceful California
DOUGLAS WHEELER
WEDNESDAY, FEBRUARY 19, 1992
Last semester, the Marian Miner Cook Athenaeum sponsored a comprehensive and successful series entitled Southern California: The State of the State. This semester we turn our eyes to the future with a new series, Southern California: The Next Ten Years.

An issue that will play a prominent role in California this decade is the environment. The Athenaeum is proud to welcome Douglas Wheeler, the California Secretary for Resources, to discuss this vital topic.

Mr. Wheeler was serving as the vice president of the World Wildlife Fund and the Conservation Foundation in Washington, D.C., when Governor Wilson named him for his present position. This choice, Wilson's first appointment to head an environmental agency, cheered many environmentalists. Mr. Wheeler is a career conservationist who has proved his mettle, as he has worked for environmental groups and public agencies for some 20 years.

Mr. Wheeler served under the Nixon and Ford administrations in the U.S. Interior Department as deputy secretary for fish, wildlife, and parks, and as executive director of the Sierra Club in San Francisco, California.

Please return the enclosed reservation slip to join us for the 5:30 reception and 6:00 dinner before the 7:00 talk.
The James Pinkerton address announced for February 20, 1992, will be rescheduled for April.