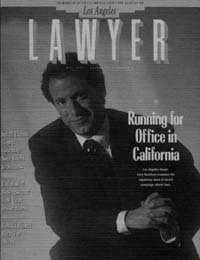 Keeping Political Candidates Out of Jail
CARY DAVIDSON '74
WEDNESDAY, MARCH 4, 1992
It is almost impossible for political candidates to stay out of trouble on the campaign trail. The rules and regulations one must follow make for a maze of reporting dates and disclosure requirements. Cary Davidson has devoted his practice to deciphering the barrage of restrictions facing prospective candidates.

Mr. Davidson graduated summa cum laude from Claremont McKenna College in 1974 with a triple degree in political science, Jewish studies, and public policy. While he was here he interned in Washington for Congressman Alphonso Bell. His thesis was "Jewish Political Fund Raising in Los Angeles." He then went on to the University of Chicago where he received his law degree in 1978.

While practicing law in Los Angeles, Mr. Davidson has attempted to integrate the law and public affairs. He encourages students and adults alike to involve themselves in the political process. He volunteers extensively, serving on the boards of Young Executives of America, the Anti Defamation League, Jewish Community Relations Committee, and he is a long-time member of Women in Public Affairs. He is also a vice president of CMC's alumni association.

Please join us for an evening that could keep all would-be politicians out of jail and all would-be lawyers rolling in dough. Meet Mr. Davidson one-on-one at the 5:30 reception. Dinner will begin at 6:00, followed by the presentation at 7:00.