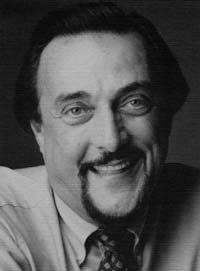 Taking Control of Your Time . . .Before It's Too Late
PHILIP ZIMBARDO
THURSDAY, MARCH 12, 1992
Have you heard of the Stanford Prison Experiment? Our guest speaker, Philip Zimbardo, created and ran what turned out to be one of the most famous experiments in the field of psychology. Students at Stanford volunteered for this experiment, which was to simulate a prison. Students either played guards or prisoners, selecting their roles by drawing lots. The experiment was to run for two weeks. However, the students portraying guards became so brutal to their prisoners that Dr. Zimbardo stopped the experiment after six days.

Dr. Zimbardo is presently a professor at Stanford University, but he grew up in New York. He graduated from Brooklyn College with honors and continued to Yale University where he completed a doctorate in psychology. After completing his formal education. Dr. Zimbardo wasted no time delving into research, training, and teaching. His career has taken him from Yale to New York University and finally to Stanford University, where he is director of the Stanford University Social Psychology Research Training Program.

Besides his teaching responsibilities at Stanford University, Dr. Zimbardo consults for cities, police departments, companies, states, and medical institutions. He has also appeared on all the major television networks as well as local stations across the nation. As a result of Dr. Zimbardo's diverse activities he has received many honors. The Distinguished Teaching Award for Outstanding Contributions to Education in Psychology, awarded by the American Psychological Foundation, and Best Psychology Teacher in California, awarded by California Magazine, are just two of eighteen honors listed on his resume.

Dr. Zimbardo is a dynamic, interesting, and informative speaker; he has been selected by the psychology department as part of the Athenaeum's Academic Leaders series. We are excited to invite you to his presentation titled "Taking Control of Your Time . . . Before It's Too Late." The dinner, which is limited to CMC persons and students enrolled in psychology courses at CMC, begins at 6:00. The speech, which is open to all, begins at 7:00 in McKenna Auditorium.