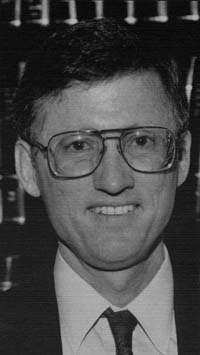 Keeping Charles Manson Behind Bars
STEPHEN KAY '64
THURSDAY, MARCH 26, 1992
Imagine being fresh out of law school and finding yourself in a courtroom opposite Charles Manson. That was the experience of CMC alum Stephen Kay. Twenty years after helping Vincent Bugliosi convict Manson and his family of psycho-killers, Kay is still working to keep the murderers behind bars.

Originally, Mr. Kay was only an assistant on the case, but now the Tate-LaBianca murders are his full responsibility. In an article appearing in the Los Angeles Times magazine, Mr. Kay's commitment to keeping the Manson family behind bars was described: "His role, largely self-appointed and not without criticism, has been to demand continuing punishment for those gunshots in the canyon, for the pagan smearing of PIGS and the illiterate HELTER SKELTER on the walls of the wealthy in their own blood." This crime haunted the country for years, essentially bringing an end to the '60s for Los Angeles; it was everyone's worst nightmare.

Mr. Kay graduated eighth in his class from CMC and continued on to Boalt Hall, UC Berkeley's law school. In addition to the Manson case, he has worked to prosecute many mass murderers. He dedicates his life to putting criminals behind bars and keeping them there; it is work that makes many Americans proud of him.

Please join us for a look back at the past through the eyes of the man that keeps the nightmare out of the present. Dinner will begin at 6:00 followed by Mr. Kay's presentation at 7:00. And don't miss the reception at 5:30.