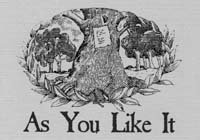 Dinner Theater
As You Like It by William Shakespeare
THURSDAY, APRIL 2, 1992-SUNDAY, APRIL 5, 1992
Shakespeare is dead but his plays do not need to moulder with him!
Under the Lights
has spiced up Shakespeare's
savory play,
As You Like It
(1598), so that it addresses the issues which interest us: gender, community and diversity and, of
course, love. Shakespeare's flavorful text remains, but we have banished the phony Elizabethan accents, silly looking
tights, and off-key lutes back to the museum where they belong. Our all-CMC production will whisk
As You Like It
into
the post-modern era where consumerism, political correctness, and apathy all vie for our minds and souls. This easily
digested play will be accompanied by the fine Athenaeum dining and a student composed and performed musical
score. The evening promises to satisfy even the most discerning palates, despite the fact that a few CMC
professors-cum-hams will make acting cameos! Reserve your place now for the most appetizing and innovative theater
fare in
Under the Lights
history.
As You Like It
opens Thursday, April 2nd and continues on Friday, April 3rd at the
Athenaeum with a special brunch performance on Sunday, April 5th. The Sunday event will take place in Badgley
Garden at 11:45 a.m.-a full barbeque lunch will be served by Marriott beginning at 11:00 a.m.; donations for the play
will be accepted; please bring a blanket or lawn chair to sit upon.
Prices for Dinner Theater
CMC student with meal card $5.00
CMC student, faculty, and staff without meal card $7.50
All other students, faculty, and staff $10.00
(The Athenaeum subsidizes everyone at the above prices)
Community persons and all others $15.00
Play only (Thursday, Friday, and Saturday nights-Sunday donations accepted at the play) $3.00
Prices for Sunday Lunch Theater
Students from The Claremont Colleges with reservation and meal card number- No charge
All others $6.50