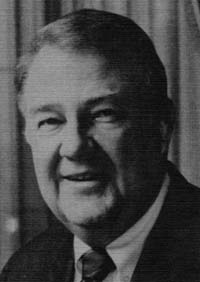 Politics and the Future of the Supreme Court
EDWIN MEESE III
MONDAY, APRIL 6, 1992
The Henry Salvatori Center is proud to welcome the Honorable Edwin Meese III to the Marian Miner Cook Athenaeum.

Mr. Meese served as attorney general of the United States from 1985 to 1988, during which time he championed what he termed the "jurisprudence of original intent." Calling for fidelity to the intentions of the Constitution's framers and ratifiers, he opposed the judicial activism of the modern Supreme Court and helped bring about the nomination and confirmation of Supreme Court justices and hundreds of federal court judges pledged to the philosophy of judicial restraint.

As an outspoken conservative, Meese was a lightening rod for criticism throughout his long career of public service. Before becoming attorney general, Meese served as counsellor to President Ronald Reagan, functioning as the president's chief domestic policy advisor and helping to oversee the Cabinet, policy development, and planning and evaluation for the Reagan administration.

During Reagan's tenure as governor of California, Mr. Meese served as his chief of staff. Before joining Governor Reagan's staff in 1967, Mr. Meese served as deputy district attorney of Alameda County, California. From 1971 to 1981, Mr. Meese was a professor of law at the University of San Diego, where he also directed the Center for Criminal Justice Policy and Management. Currently, Mr. Meese holds the Ronald Reagan Chair in Public Policy at the Heritage Foundation, in Washington D.C., and is a Distinguished Visiting Fellow at the Hoover Institution, Stanford University.

Please join us for Mr. Meese's lively discussion of the Supreme Court and the past and future of American politics. The evening begins with a reception at 5:30, followed by dinner at 6:00 and Mr. Meese's remarks at 7:00. This event is co-sponsored by the Claremont chapter of Pi Sigma Alpha, the national honorary fraternity for political scientists, and by Young America's Foundation, as part of its Henry Salvatori Distinguished Lecture Series.