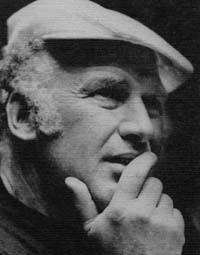 Sea Lion and the Bear
KEN KESEY
WEDNESDAY, APRIL 8, 1992
One of the writer-prophets who created and criticized the culture of the 1960s, Ken Kesey is a legend in the American literary landscape. His two early novels, One Flew Over the Cuckoo's Nest and Sometimes a Great Notion, continue to inspire and haunt our ideals of freedom and possibility. The Marian Miner Cook Athenaeum is pleased to present Ken Kesey as he enters a new phase of his remarkable career.

Kesey was born in Oregon, where he still lives. He was graduated from the University of Oregon and later studied at Stanford with Wallace Stegner, Malcolm Cowley, and Frank O'Connor. One Flew Over the Cuckoo's Nest, his first novel, was published in 1962, followed by Sometimes A Great Notion in 1964.

Kesey chronicled many of the extraordinary experiences he and friends shared in the 1960s in Kesey's Garage Box (1973), adventures made legendary in Tom Wolfe's Electric Cool Aid Acid Test (1987). Kesey's third novel, Demon Box, was published in 1987.

Kesey and thirteen members of his writing seminar at the University of Oregon collaborated on a novel entitled Caverns ("by 0.U. Levon"), published in 1989. Recently Kesey has turned to fiction for children. His most recent works are The Sea Lion: A Story of the Sea Cliff People (1991) and Little Tricker the Squire Meets Big Double the Bear (1990).

Please join us for a night of stories and visions with the extraordinary Ken Kesey. Return the enclosed slip for the 5:30 reception and 6:00 dinner before the 7:00 talk. The dinner is open to CMC persons only, but everyone may join us for the address.