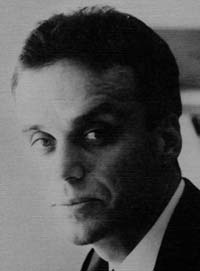 Today's Germany
ANDREW NAGORSKI
THURSDAY, APRIL 9, 1992
The world was watching when the Berlin Wall came down, and when East and West Germany were finally united after being severed for a half-century. The reunited state is now the center of a new Europe. What is the situation in today's Germany?

This question will be addressed for us by Andrew Nagorski, a Washington-based correspondent specializing in European affairs. We can be assured of a realistic picture; in fact, Mr. Nagorski has a track record of confrontations with countries ranging from Poland to the Philippines due to his commitment to telling an accurate story. In 1982, for example, the Soviet Union cancelled his credentials as Newsweek's Moscow bureau chief and expelled him from the country for making a number of reports that ran against the party line. He went on to become bureau chief in Rome, and then in Bonn, Germany.

Mr. Nagorski chronicled his Soviet experiences in the book, Reluctant Farewell: An American Reporter's Candid Look Inside the Soviet Union (1985). He received the Overseas Press Club award in 1979 for best business reporting from abroad for his cover story, "Japan vs. the World." Mr. Nagorski's visit is co-sponsored by the Keck Center for International and Strategic Studies.

Please join us for this talk by an accomplished international journalist. Turn in the enclosed slip to make reservations for the 5:30 reception and 6:00 dinner before the 7:00 program.