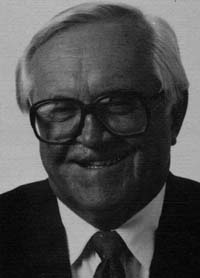 California's Economy: Do We Have One Left?
ALFRED GOBAR P'93
MONDAY, APRIL 13, 1992
Our series on California closes on the troubling but pertinent issue of how the recession and other recent developments have effected the economy of our state. It will be addressed by Alfred Gobar, an economics consultant of local as well as national prominence; his biography appears in Who's Who in Orange County, Who's Who in California, and Who's Who in America.

Mr. Gobar was born on a large cattle and alfalfa ranch in Lucerne Valley and educated in Whittier through college. He received his Ph.D. from the University of Southern California, then taught economics at a variety of schools including USC and Cal State Fullerton.

Aside from his achievements in academics, Mr. Gobar is a prominent economic consultant in the business world. After ten years as a sales engineer, he entered consulting in 1964 and formed his own firm, Darley- Gobar Associates, which in 1969 became the second largest real estate economics consulting firm in the United States.

In 1973 the firm became known as Alfred Gobar Associates, Inc. and downsized to fifteen people to provide a higher quality product. This pursuit of high quality employees has been successful; several members of the staff have also been featured in various Who's Who publications. Their clients include major entitlement companies, banks, and cities such as San Diego and Chicago.

Please join us for this informative talk; Mr. Gobar will be giving us his very best due to his "sincere interest in avoiding embarassing Joe '93 in front of his peers." Please return the enclosed slip to join us for the 5:30 reception and 6:00 dinner, to be followed by the 7:00 talk.