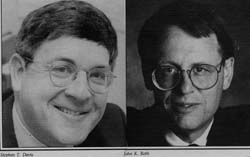 Is God Good?
STEVE DAVIS
JOHN ROTH
TUESDAY, APRIL 14, 1992
Why a loving God allows evil and suffering is one of the most pressing questions of our time. The classic statement of the problem follows: Either God is all-powerful but not all-good, and therefore doesn't stop evil; or God is all-good but unable to stop evil, in which case He is not all-powerful.

Many Christians believe that God is completely good, just, and loving. Such a God, however, stands in stark contrast to a world in which war, crime, corruption, oppression, starvation, and abuse are rampant.

The Claremont McKenna College Christian Fellowship cordially invites you to come and hear two of CMC's own distinguished professors, Stephen T. Davis and John K. Roth, discuss a question that has been hotly debated throughout history.

The evening's program will be highly unstructured. There will an open forum/question-and-answer session in which audience participation is highly encouraged.

Professor Davis received his Master of Divinity from Princeton Theological Seminary and his Ph.D. from the Claremont Graduate School before joining the CMC faculty in 1970. Professor Davis, although more commonly recognized as the Stags soccer coach, is also currently a pastor at United Presbyterian Church.

Professor Roth received both his M.A. and his Ph.D. from Yale University and has been a member of the CMC faculty since 1966. Best known for his studies on the Holocaust, Professor Roth has travelled as a visiting professor to institutes and universities around the world, as well as having been honored with the 1988 Professor of the Year Award for the United States and Canada by the Council for Advancement and Support of Education.

Please return the enclosed slip to make your reservation to join-and participate-with us in the 5:30 reception and 6:00 dinner before the panel discussion at 7:00.

Come and see!