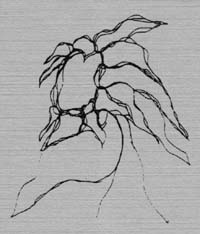 CMC Senior Art Show
MALUAKA HARRISON '92
THURSDAY, APRIL 23, 1992
Reflections of Nature
Over the past four
years we have had
seniors who are art majors show their works
to the college community. This year we invite you
to visit the art project of Maluaka Harrison '92.
Maluaka says her show will be "an exploration
through various means of expressing/interpreting
the importance and significance of the physical
natural world and how it relates to my existence as
a human being." The showing and reception will
be from 7:00 to 9:00 p.m., no reservations
necessary.