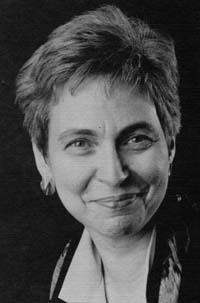 Women and the Holocaust
JOAN RINGELHEIM
MONDAY, APRIL 27, 1992
The term Holocaust brings to mind horrible images of death and destruction. Even after 50 years, the "truth" about what really transpired is still being debated by scholars and politicians. Joan Ringelheim wants us to remember the suffering of all the people, in particular the experiences of the women in the Holocaust.

Dr. Ringelheim began her studies at Oberlin College, then transferred to Boston University where she received her bachelor's degree, as well as her master's and Ph.D. She has taught philosophy at De Pauw University, Connecticut College, and Wesleyan University. Course topics she has developed over the years include prejudice and oppression, guilt and shame, freedom and responsibility, and feminist theory. Eventually two subjects became the major foci of her teaching and research: the Holocaust and feminist theory.

In addition to her teaching. Dr. Ringelheim has received grants from the American Council of Learned Societies Fellowship, the Center for Humanities at Wesleyan University, and the New York Council for the Humanities to continue her research on women and the Holocaust. In 1983 she was one of the editors of the proceedings of the conference "Women Surviving: The Holocaust." She has recently published articles in The Simon Wiesenthal Annual, Vol. I (1984) and the feminist journal SIGNS. The latter article will be reprinted with an additional postscript in Different Voices: Women and the Holocaust, edited by John Roth and Carol Rittner. Currently she is working on her own book, entitled Double Jeopardy: Women and the Holocaust.

Please join us for an interesting perspective, sponsored by Hillel, the intercollegiate women's studies department, and the Athenaeum. Return the enclosed reservation slip in order to come to the 5:30 reception and 6:00 dinner. Dr. Ringelheim's presentation will follow at 7:00.