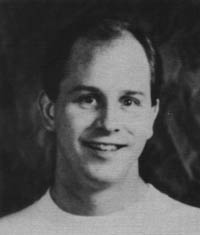 Dating, Relating, But Not Yet Mating
BOB HALL
MONDAY, SEPTEMBER 14, 1992
Sexual conflict is a too common reality of college life. One out of six college women is a victim of date rape each year. Between 75 and 80 percent of all rapes are committed by an acquaintance. Bob Hall, founder and president of Learning to Live with Conflict Inc., will address possible protections against these numbers in his presentation "Dating, Relating, But Not Yet Mating."

Mr. Hall approaches the serious topic of sexual communication and conflict with a humorous flare. "I'm hoping the comedy releases inhibitions in people so they can feel more comfortable speaking about this subject," he said. Communication is central to Hall's theme of "Hands Off Let's Talk." He faults differing sexual agendas for the poor communication between men and women. His presentation advises men and women to rethink traditional gender roles and examine the factors which affect personal values and sexual orientation.

Mr. Hall holds a bachelor's degree in business administration from the Rochester Institute of Technology and is a certified mediator for the New York State Unified Court System. He also has a black belt in judo and was chief instructor of the martial art at R.I.T. from 1981 to 1984. Since 1987 he has helped colleges and universities across the nation address sexual communication problems using the tools of conflict resolution. He has received virtually unanimous acclaim for his work.

If Mr. Hall's last visit to the Athenaeum is any indication, you don't want to miss this encore performance, which is co-sponsored by the Dean of Students Office. Attend the 5:30 reception followed by dinner at 6:00 by returning the enclosed reservation slip. Everyone is welcome to Mr. Hall's presentation beginning at 6:45.