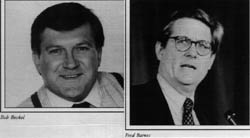 The Political State of Affairs
BOB BECKEL
FRED BARNES
TUESDAY, SEPTEMBER 15, 1992
Starting off our "Election Edition 1992" series, the Athenaeum and the John Brown Cook Association are proud to host Bob Beckel and Fred Barnes presenting "The Political State of Affairs."

Robert Beckel began his political career working for Robert Kennedy in 1968. After serving in the Peace Corps in 1970-71, he started a political consulting firm that handled campaigns across the nation. Mr. Beckel was the campaignmanager for Walter Mondale's successful bid for the Democratic nomination in 1984. In 1985 he formed the consulting firm National Strategies and Marketing Group, Inc., which specializes in grassroots campaigns and regional marketing for corporations. He is a frequent columnist for the Los Angeles Times' Sunday opinion section.

Fred Barnes is a senior editor of The New Republic a magazine of politics and cultural affairs. He has a regular column on the presidency, known as "White House Watch," and also writes about politics and the media. Barnes is a regular panelist on "The McLaughlin Group" and is seen frequently on "Crossfire" on CNN. Barnes covered the Supreme Court and the White House for The Washington Star before joining the Baltimore Sun in 1979. He joined The New Republic in 1985. The 1989 Media Guide called Barnes a "great political reporter-columnist," and the Washingtonion magazine, also in 1989, listed Barnes among Washington's top 50 journalists.

We hope you'll join us for what promises to be an exciting evening. Please return the coupon to attend the 5:30 p.m. reception, 6:00 dinner, and 6:45 presentation.