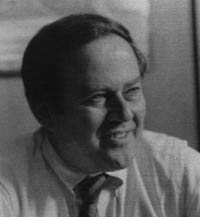 Los Angeles: April 1992 and Beyond
RAY REMY '59
THURSDAY, SEPTEMBER 17, 1992
The Marian Miner Cook Athenaeum welcomes CMC trustee Ray Remy '59, president of the Los Angeles Area Chamber of Commerce, as the first speaker in the series "Los Angeles and Beyond."

The speakers in the series will offer varied perspectives on the causes of the Los Angeles riots, the broader implications of the riots, and the future of Los Angeles. Future series speakers include Frank Zimring, who will discuss firearms, violence, and civil disorder; Cecil Murray, pastor of the First African Methodist Episcopal Church; sociologist and crime analyst Jack Katz; Angela Oh, criminal defense attorney and president of Women's Organization Reaching Koreans; Richard Rodriguez, who writes about the Mexican-American family; and Antonia Hernandez, president and general counsel for MALDEF (Mexican-American Legal Defense and Education Fund).

Mr. Remy, who holds a masters in public administration from UC Berkeley, was named president of the Los Angeles Area Chamber of Commerce in 1984. Prior to that appointment, he spent eight years as deputy mayor of Los Angeles. Following the Los Angeles riots, Mr. Remy was named to the Rebuild LA board of directors by chairman Peter V. Ueberroth.

After the riots Mr. Remy traveled to Washington, D.C., with members of the chamber of commerce's board of directors to impress upon White House and Congressional representatives the need for federal, state, and local governments to coordinate their efforts to rebuild Los Angeles.

Mr. Remy wrote an op-ed piece that appeared in the Los Angeles Times on May 29. In that piece he outlined the group's suggestions for rebuilding LA, which included reestablishing order; establishing information centers to distribute information on federal, state, and local government assistance program; passing enterprise-zone legislation; expediting the building permit process; and repairing the image of Los Angeles. "Much of what is suggested here is already being undertaken," wrote Mr. Remy in conclusion, "and there has been a tremendous outpouring of volunteer support. But only if the effort is sustained over the long haul will we avoid a new round of bitterness and frustration down the road." Please join us for a timely address on a topic that touches all our lives. Mr. Remy's address begins at 6:45, preceded by a reception at 5:30 and dinner at 6:00. To reserve your space at dinner, return the enclosed coupon to the Athenaeum.