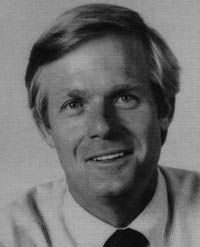 Project Vote Smart
RICHARD KIMBALL
MONDAY, SEPTEMBER 28, 1992
At a time when many Americans are not well informed about politics, Richard Kimball is working to improve the public's awareness. He is director and co-founder of The Center for National Independence in Politics (CNIP), an organization committed to nurturing a better, more objectively informed American voter.

After serving two terms as a state senator in Arizona, Mr. Kimball Lost his bid for a U.S. Senate seat in 1988. This campaign left him disgusted by a political system which he felt was characterized by special interests, slick political advertising, and voter apathy.

Mr. Kimball joined Senator Barry Goldwater to look for a way to cut through political rhetoric and hype and supply voters with unvarnished information on the candidates and the issues. With Jimmy Carter and Gerald Ford, they formed The Center for National Independence in Politics.

The Center's main mission has been the completion of Project Vote Smart, a colossal data base of information on all of the candidates for president, congress, and state governor. Project Vote Smart enables voters to call a toll free hotline and access vital, factual information on a candidate's voting record, prior political experience, and even their biggest contributors.

Tonight Mr. Kimball will be speaking on the media's role in politics, how to interpret and guard against negative political advertising, and how citizens can be better informed voters. His talk will be enhanced by film clips from past political commercials. The reception begins at 5:30 p.m., dinner at 6: 00, and the address at 6:45. If you wish to attend the dinner, please complete and return the enclosed reservation form.