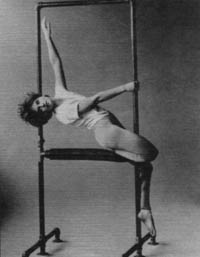 The Watcher and the Watched
ERIKA BATDORF
THURSDAY, OCTOBER 1, 1992
The Athenaeum proudly presents in exciting evening of theater as Erika Batdorf performs The Watcher and the Watched (1990). This provocative piece explores gender, movement, and costume in a humorous and informative way. Ms. Batdorf's performance offers an opportunity to see and discuss gender stereotyping in a new and challenging light. The Watcher and the Watched urges the audience to examine the everyday pictures of men and women that we absorb half-consciously and unconsciously over a lifetime.

Erika Batdorf teaches movement at Brandeis University and the Boston Conservatory. She studied classical corporeal mime with Etienne Decroux in Paris. She has performed, directed, and choreographed original movement theater since 1983. She has performed her solo works in Canada, Europe, and across the United States, in places including the Smithsonian, the Fine Arts Museum of San Francisco, the Landegg Academy of International Education and Development in Switzerland, and at the Philadelphia Movement Theater Festival International.

Join us for an exciting evening of theater. The reception begins at 5:30, followed by dinner at 6:00 and the performance beginning at 6:45 p.m. If you wish to attend the dinner, please complete and return the enclosed reservation form.