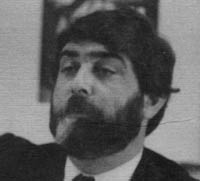 A Pollster's View
PATRICK CADDELL
TUESDAY, OCTOBER 6, 1992
Patrick H. Caddell is a former chief political strategist and research consultant to more than 100 congressional, gubernatorial, and presidential campaigns. In 1972 while an undergraduate at Harvard, Mr. Caddell conducted the research survey for George McGovern's presidential campaign. Since then his clients have included the Senate campaigns of Ted Kennedy and Alan Cranston, and the gubernatorial campaigns of Mario Cuomo, Michael Dukakis, and Bob Casey.
Mr. Caddell has also served as a consultant to numerous corporations, international organizations, and public interest groups. His clients have included AT&T, Centrust Bank, Coca-Cola Corporation, and Amnesty International. His articles, editorials, and opinion pieces regarding contemporary American politics have appeared in the Wall Street Journal and the New York Times.

We look forward to an insightful look into his year's election, and we hope you will join us. The reception will begin at 5:30 followed by dinner at 6:00 and the talk at 6:45 p.m. To reserve your space at dinner, please complete and return the enclosed form.