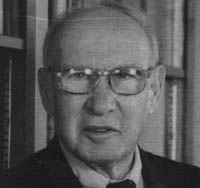 Transnationalism, Regionalism, Tribalism: Transcending National State, National Economy, and Individual Business
PETER DRUCKER
THURSDAY, OCTOBER 8, 1992
How will we adjust to changing political and economic conditions? How will business be conducted in an era of transnationalism?

The Marian Miner Cook Athenaeum is pleased to present Professor Peter Drucker as a part of the "Globalization: Are We Ready? " series. His speech is entitled "Transnationalism, Regionalism, Tribalism: Transcending National State, National Economy, and Individual Business."

The term "globalization" has been used to describe a growing phenomenon in economics, politics, and sociology, where the nations of the world demonstrate a growing sense of interdependency.

Professor Drucker has been called "the founding father of the science of management" and is renowned for his prophetic books on economics, politics, and society. When he is not busy teaching at the Peter F. Drucker Graduate Management Center at the Claremont Graduate School, Drucker offers advice on the issues of globalization to major corporations and governments all over the world. Join us at the Athenaeum for a 5:30 reception, followed by a 6:00 dinner and 6:45 address. To attend the dinner, return the enclosed reservation form.