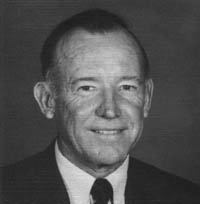 The Pacific Rim and the United States
RONALD HAYS
THURSDAY, OCTOBER 29, 1992
The Keck Center for International and Strategic Studies is proud to welcome retired Admiral Ronald Hays of the United States Navy to speak on "The Pacific Rim and the United States."

Admiral Hays received a Bachelor of Science in 1950 from the United States Naval Academy. Over his forty-plus years of service, he had two combat tours of Vietnam and fifteen years of work in planning, programming, and budgeting. He was a senior naval commander in Europe and then went on to command all U.S. military forces as commander-in-chief in the Pacific, extending from the west coast of the U.S. to the east coast of Africa. After retirement from the military in 1988, Admiral Hays has become active once again, this time as a civic leader. This includes membership on the boards of several charitable organizations and chief operating officer of a nonprofit technology research organization involved in renewable energy research, information technology, biotechnology, and education and training in the South Pacific region.

We hope you will join us for Admiral Hays' presentation. The reception will begin at 5:30 p.m., followed by his address at 6:45 p.m. To attend the dinner at 6:00, please return the enclosed reservation form.