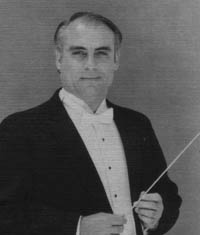 Antonin Dvorak: The Rise of Czech Nationalism
MICHAEL DEANE LAMKIN
TUESDAY, OCTOBER 13, 1992
Did you ever wonder how music can impact political movements?

Michael Deane Lamkin will be speaking on Antonin Dvorak and how the music he wrote more than one century ago contributed to the establishment of the independent country of Czechoslovakia.

His talk will serve as a concert preview to the October 24 and 25 concerts of the Claremont Chamber Orchestra, which will feature excerpts from the Slavonic Dances of Dvorak, as well as Beethoven's Symphony No. 7. The Chamber Orchestra performs Saturday, October 24, at 8:00 p.m. and Sunday, October 2 5, at 3:00 p.m. in Bridges Hall of Music on the Pomona College campus. Admission is free.

Around the time of Dvorak, most of the music of central Europe had heavy German influences. Dvorak, however, rejected this notion and wanted to produce a music to reflect his country's folk tradition. This move to establish an independent music started a wave of nationalism that still survives. Over the summer, Czechoslovakia decided to separate into two countries.

A performer and a conductor, Michael Deane Lamkin is director of the Joint Music Program at the colleges. He received his B.A. and M.A. at Baylor University and his Ph.D. in musicology from the University of Iowa. He has also studied at opera institutes in Freiburg, Germany and Grazz, Austria.

Please join us for this interesting evening, which will begin with a 5:30 reception, followed by a 6:00 dinner and a 6:45 speech. To reserve your place at dinner, please return the enclosed reservation form.