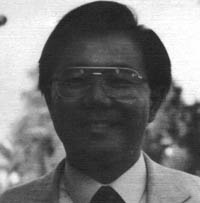 Legal Aspects of Immigration
STEWART KWOH
TUESDAY, OCTOBER 27, 1992
Immigration policy has become an explosive issue in the United States. It poses a moral dilemma for a country made up of immigrants that now faces a rapidly growing population and many other challenges intensified by immigration. The Marian Miner Cook Athenaeum welcomes Stewart Kwoh to address the "Legal Aspects of Immigration." Since 1988 Mr. Kwoh has been a member of the steering committee for the Coalition for Humane Immigration Rights of Los Angeles.

Mr. Kwoh received his J.D. degree from UCLA in 1974. He has been active in the Asian community and the greater Los Angeles area, serving on many boards including Bank of America's Social Policy Advisory Committee, Magma Pacific Investments (a small business investment company), and Leadership Education for Asian Pacifics. He is also a board member on the committee to rebuild Los Angeles. Since 1983 Mr. Kwoh has served as the Executive Director of the Asian Pacific American Legal Center of Southern California. Mr. Kwoh's visit to CMC is co-sponsored by the Rose Institute.

We hope you will join us for Mr. Kwoh's presentation and the continuation of our series on "The Asian American Spirit." The reception begins at 5:30, followed by dinner at 6:00 and the speech at 6:45 p.m. To join us for dinner return the enclosed reservation form.