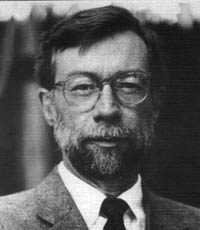 29 Years Ago and the Questions Remain
CARL OGLESBY
MONDAY, NOVEMBER 16, 1992
"Who killed J.F.K.?" remains an undying question for many Americans. Carl Oglesby has spent the past fifteen years examining and writing about the Kennedy assassination and will address exactly what happened 29 years ago and what questions remain.

In 1972 Carl Oglesby co-founded the Assassination Information Bureau, a public-education organization. This bureau was instrumental in forcing Congress to re-open the Kennedy case in 1976. Oglesby asserts that "few people know that this investigation found that Kennedy was probably killed by a conspiracy." He published The Yankee and Cowboy War: Conspiracies from Dallas to Watergate (1976), which interprets the murder of Kennedy, and he has written numerous articles on the Kennedy case for Life, The Nation, The Washington Post, and the Boston Globe.

Carl Oglesby was an early leader in the movement against the Vietnam war. He was educated at Kent State and the University of Michigan and was president of Students for a Democratic Society in 1965-66. He has taught politics at Antioch, Dartmouth, and MIT.

We hope you'll join us for what the Boston Globe describes as a "spellbinding" presentation. Mr. Carl Oglesby will address "29 Years Ago and the Questions Remain" at 6:45 p.m. preceded by the reception and dinner at 5:30 and 6:00 p.m. To reserve your place at dinner, please fill out and return the enclosed coupon.