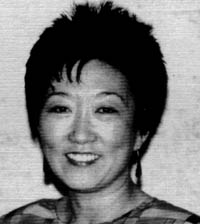 Seeking Common Ground
ANGELA OH
MONDAY, NOVEMBER 9, 1992
During the Los Angeles riots, Angela Oh, a Los Angeles criminal defense lawyer and emerging spokeswoman for Korean-Americans, pleaded on television and in the press for Asian-Americans and African-Americans to work together to overcome the economic, political, and social forces pushing them apart. She appeared on local public television, Donahue, and Nightline, where she criticized President Bush for lack of leadership and wrote numerous articles for the Los Angeles Sentinel and the Los Angeles Times.

"I feel very strongly that people are capable of coming together," said Oh.

A native Angeleno, Angela Oh made a commitment to help cure the problems of Los Angeles. California Assembly Speaker Willie Brown appointed her a co-counsel to the Assembly Special Committee on the Los Angeles Crisis, which is studying post-riot development. Recently, the committee has held hearings on issues such as banking and finance, mass transit, urban planning, and insurance.

In her after-work activities, Oh emerges as an eloquent Korean community spokeswoman. She is president of the Los Angeles Korean-American Bar Association and the Women's Organization Reaching Koreans, a group she co-founded to help Korean women balance the demands of a career and a family.

Please join us for what should be a very interesting evening. The reception starts at 5:30, the dinner is at 6:00, and the speech begins at 6:45.