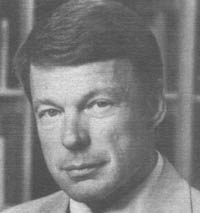 Old Politics or New? Race and International Relations in the 1990s
P. EDWARD HALEY
TUESDAY, JANUARY 26, 1993 12:15 p.m.
The Marian Miner Cook Athenaeum is beginning a new series at noon time called "Faculty Focus." Starting off the series and the new year, Dr. P. Edward Haley will provide a global and national outlook as he discusses "Old Politics or New? Race and International Relations in the 1990s."

Professor Haley's scholarly focus on international relations makes him a most appropriate speaker to address the emerging concerns of the 1990s. His most recent book, Overtaken by Events: George Bush and the World, 1989-1993, focuses on foreign policy during the Bush administration. In his book Haley asserts that success in foreign policy depends on the greater national welfare. He discusses the goal of a "domestic consensus on the appropriate ends and means of government that will allow the American people to get on with solving the problems they share with one another in constructive and humane ways without having obvious alternatives denied on narrow ideological grounds."

Professor Haley is senior research associate for the Keck Center for International and Strategic Studies and professor of international relations at CMC. He is an International Fellow of the Council on Foreign Relations and a member of the International Institute for Strategic Studies in London. He has written and edited several books on nuclear control as well as books on Qaddafi and the United States Since 1969 (1984) and Congress and the Fall of South Vietnam and Cambodia (1982).

Lunch is served at noon; Professor Haley speaks at 12:15 p.m.