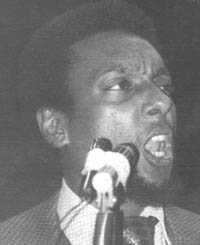 Martin Luther King Jr. Commemoration
KWAME TURE
MONDAY, FEBRUARY 1, 1993
The Athenaeum presents Dr. Kwame Ture (formerly known as Stokely Carmichael) as the Martin Luther King Jr. birthday speaker. His more than 20 years of political experience have given him an understanding of the trends, ideas, and progress of democratic and human rights movements across the globe.

Dr. Ture is a political activist, scholar, and traveler of the world. He was a leading organizer in the Civil Rights, Black Power and Pan African movements in the 1960s. Dr.Ture has lectured at universities around the country and throughout Africa and the Middle East, including the University of Liberia and the University of Sudan.

Kwame Ture presents and persuasively argues for a fundamentally different philosophy, objective, and strategy for solving the complex problems affecting African and other oppressed people throughout the world. He is an organizer for the All-African People's Revolutionary Party which has been building across college campuses.

We hope you'll join us for what promises to be a challenging and dynamic talk!