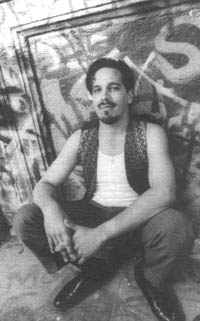 Los Angeles and Beyond: A Journalist's Perspective
RUBEN MARTINEZ
TUESDAY, FEBRUARY 2, 1993
Ruben Martinez, senior editor of the LA. Weekly, will offer his perspective on the causes and implications of the Los Angeles riots as the Athenaeum's series on that topic continues into the second semester.

Mr. Martinez, along with other LA. Weekly writers, received the Greater Los Angeles Press Club Certificate of Excellence for their coverage of the aftermath of Rodney King's beating.

Mr. Martinez co-hosts KCET-TV's public affairs program "Life and Times," is a contributing editor for Mas Magazine in the United States, La Pusmoderna in Mexico City, and the bilingual music review El Acordeon, and is a correspondent for Pacific News Service.

Mr. Martinez is the author of The Other Side: Fault Lines, Guerrilla Saints, and the True Heart of Rock 'n' Roll, published in 1992. He was also featured in Sex, Death and God in Los Angeles (1992), edited by David Reid.

A poet, Ruben Martinez has received several awards, including a Santa Monica Arts Council Prize for poetry, a fellowship from the California Arts Council for creative writing, and a poetry prize in the UC Irvine Chicano Literary Contest.