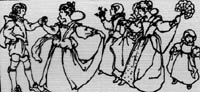 Evening in Vienna
MICHAEL DEANE LAMKIN, conductor, Claremont Chamber Orchestra
Friday, February 19 and Saturday, February 20, 1993
It is our pleasure to invite you to an evening of music, dance, and Viennese cuisine. Join us for dinner, a turn around the dance floor, and music of Johann Strauss with the Claremont Chamber Orchestra conducted by Professor Michael Deane Lamkin.
The festivities will begin at six o'clock and will include a mini dance lesson on the waltz and the polka by Mr. Lamkin.
The menu will feature a served dinner
Potato Leek Soup
Field Greens with Caper Vinaigrette
Chicken Paprika - Red Cabbage with Bacon - Parsley New Potatoes
Apple Tarts - Gingerbread Cake with Lemon Sauce - Chocolate truffle Torte
Viennese Cafe
Prices - please include your payment with your reservation.
Prices for Friday, February 19, 1993 -Student Night
CMC student and one guest (both with meal cards) $7.50 per person
CMC student and one guest (without meal card) $10.00 per person
CMC faculty, staff, and one guest $15.00 per person
All other students, faculty, and staff $20.00 per person
Prices for Saturday, February 20, 1993- Community Night
CMC faculty, staff, and one guest $15.00 per person
All others $30.00 per person