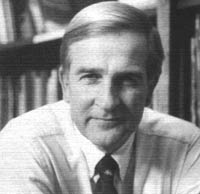 The Changing Costs of Education
GORDON BJORK
TUESDAY, FEBRUARY 9, 1993 12:15 p.m.
In the second "Faculty Focus" luncheon of the semester, Professor Gordon Bjork will share with us his latest work on the relationship between changes in U.S. demography and the cost of education. He will address the strains that the cost of education will place on the changing U.S. economy.

Professor Bjork is the Jonathon B. Lovelace Professor of Economics at CMC. Around campus, Professor Bjork is known for his teaching in the Philosophy, Politics, and Economics program, Theory and Practice of Commercial Banking (or, as students call it, "Bank Sim"), and the Development of the American Economy. His scholarly interests cover a wide variety of areas. He has written books on the development of capitalism in America, the economics and politics of land use planning and environmental controls, and the American economy during the colonial period. Currently, he is working on a book on the structural changes taking place in the economy.

Bjork has led a truly distinguished academic life. After graduating from Dartmouth College, he went to Oxford on a Rhodes Scholarship and in 1963 received a Ph.D. in economics from the University of Washington. He has taught at several Canadian universities, Columbia University, and the University of Hawaii and served as president of Linfield College, a small private school in Oregon. Professor Bjork has won two George Washington Honor medals for distinguished achievement in economic education.

Lunch is served at 11:45 a.m.; Professor Bjork speaks at 12:15.