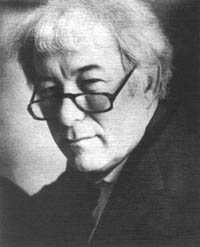 An Evening with the Poet
SEAMUS HEANEY
THURSDAY, FEBRUARY 11, 1993
Recognized by Robert Lowell as "the greatest Irish poet since Yeats," Seamus Heaney unexpectedly deviates from the great pessimistic nature of Modernist and post-Modernist writing. "He is deeply sensitive to the darker side of human existence; but he shows a great deal of compassion, affection, humor, and pleasure, particularly in the rural and earthy things" (David Perkins, Harvard University). His poetry addresses the struggle between Protestants and Catholics in Northern Ireland. The nature and history of Ireland and the character of its people are brought to life in his work, but he goes beyond Ireland, writing in a way that connects with readers throughout the world.

Seamus Heaney, born in County Derry, Northern Ireland, currently resides in Dublin spending part of each year teaching at Harvard University. He is a member of the Irish Academy of Letters and has been the recipient of many honors and awards for his poetry. In 1989, Mr. Heaney was elected to the post of Professor of Poetry at Oxford University. He has published eleven collections of poetry, Seeing Things (1991) being his most recent work. He also recently completed The Cure at Troy: A Version of Sophocles' Philoctetes (1991). In addition, Heaney provides commentaries on topics ranging from art to politics.

The impact of growing up and living amidst the instability of Northern Ireland is beautifully reflected in Heaney's work. We hope you'll join us for this special evening of poetry with Seamus Heaney.