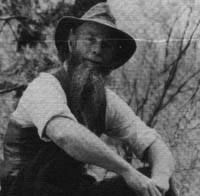 The Spirit of John Muir
LEE STETSON
WEDNESDAY, FEBRUARY 17, 1993
Imagine an America where the wilderness was still intact and untamed, where the papers were not plagued with the perils of pollution, and anyone could roam free of the fear of encountering a mini-mall or gift shop. Imagine the America of John Muir, whom many consider the "father of the environmental movement." Lee Stetson recreates this more pristine past in his monologue "The Spirit of John Muir."

John Muir was born in Scotland and emigrated to the wilderness of Wisconsin at the age of eleven. In 1867, he walked from Kentucky to Florida, keeping a journal, the first of many. The next year, he moved to California and caught his first glimpse of Yosemite. From then on he struggled to get federal control of forests, Yosemite in particular. He climbed Mount Shasta and Mount Rainier, explored the glaciers in Alaska, and even led President Theodore Roosevelt on a personal tour of Yosemite. His adventurous spirit developed into camaraderie with the land around him. Mr. Muir saw Yosemite declared a national park. Later, he founded the Sierra Club, which continues to speak out on behalf of the environment.

Mr. Muir published accounts of his adventures from which Mr. Stetson created his monologues. Mr. Stetson has been portraying John Muir for more than ten years. His exploration into Muir's life has inspired him to become active in the environmental movement. Stetson also takes visitors on weekly walks through Yosemite giving them a glimpse of the park through Muir's eyes.

Don't miss this opportunity to hear the tales of America's premier adventurer.