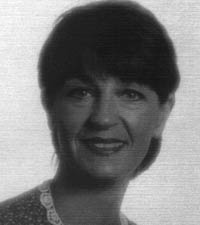 Sarah Hawkins: The Saga of a Woman Pioneer
CONNIE STETSON
THURSDAY, FEBRUARY 18, 1993
Following her husband's presentation on the life of John Muir,
Connie Stetson
will portray Sarah Hawkins, a fictional character. Created by Lee Stetson, Sarah Hawkins' story is based on the diaries and other accounts of pioneer women who managed to cross 2,400 hazardous miles of the Overland Trails from the early 1840s through the late 1860s. The emigrants were young-few were over the age of thirty-and they were generally unprepared and woefully inexpirenced for such rough travel. Accident and disease were the greatest of the many dangers they faced. A large number of the women were pregnant or gave birth on the trail; yet, in general, the women survived the rigors of the trail better than the men.
Ms. Stetson's theatrical career includes starring roles in Gypsy (1959), The Unsinkable Molly Brown (1964), and The Importance of Being Earnest (1895), among many other plays. She also performed with "The Groundlings," Los Angeles' premiere improvisational ensemble. Ms. Stetson attended Santa Monica College and the University of California at Los Angeles. She has studied with Rudy Solari and Stockwell in Los Angeles and with Michael Moriarity in New York. She has been a resident of Yosemite for the past four years, directing and teaching drama and improvisational skills to the children of the Yosemite and El Portal schools.